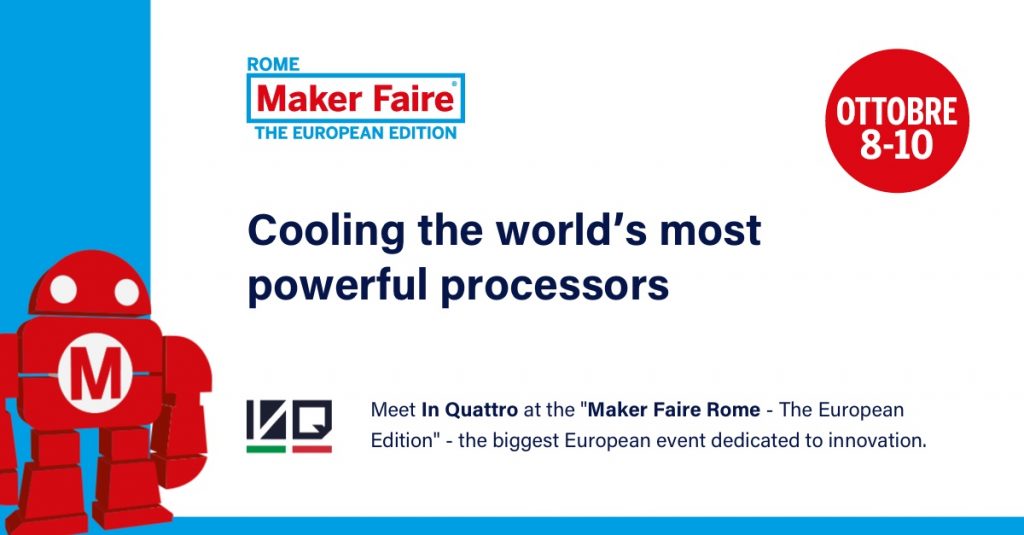 Meet IN QUATTRO – Global Pioneer in Two-Phase Flow Cooling Technology – at Maker Faire Rome 2021, the biggest European Event dedicated to Innovation. Visit our booth to learn more about our innovative solutions for the thermal management sector of high-power electronics.
Stand: Life Pavillion/J.1.25
Octorber 8-10Gazometro Ostiense – Via del Commercio 9-11, Rome
#MFR2021

Exhibitor link: https://lnkd.in/dfZKkjZ7
MAKER FAIRE ROME – The European Edition – IX Edition.
Maker Faire Rome is the European edition of Maker Faire. The event is organized by InnovaCamera, a Special Agency of the Rome Chamber of Commerce, whose mission is to place the city of Rome at the center of the debate on innovation, by spreading the digital culture, and developing the individual and collective entrepreneurship that is so integral to the Maker movement's genetic makeup.
Maker Faire Rome combines science, science fiction, technology, entertainment and business to create something completely new. The event is designed to turn the spotlight on hundreds of projects from around the world that are able to catapult visitors into the future.
Not just a fair for field experts. At Maker Faire, you'll find inventions in the field of science and technology (from 3D printers to wearables, through to drones, robots and digital manufacturing), but also new forms of art, entertainment, crafts, food experiments and attractions never seen before.
Maker Faire Rome is the world's largest exhibition after the "Area Bay" and "New York" in the US.


IN QUATTRO (IQ) is a global pioneer in innovative, patented two-phase pumped flow cooling solutions for advanced thermal management of high-power electronics (HPE). They provide innovative cooling solutions that meet temperature control challenges for high thermal power densities with greater reliability, low flow rates, and reduced electrical consumption. Their new two-phase cooling technology utilizes sustainable components and improves efficiencies for the most advanced applications in the following sectors: high-end computers (gaming PC's and workstations), servers, HPC servers, data centers, electric vehicles, and aerospace applications.
For more information:
Giulia M. Luccioli (Advisor) – Email: g.luccioli@in-quattro.com
Giuseppe Zummo (Co Founder) – Email: g.zummo@in-quattro.com