Only private company chosen by UN and China for space station research project brings innovative technology to new heights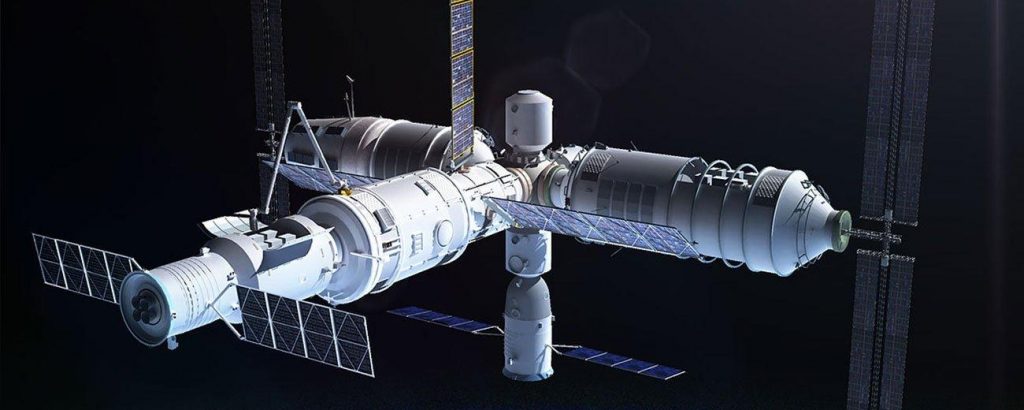 ROME, ITALY (January 20, 2021) – A unique two-phase flow cooling system developed by IN QUATTRO has been accepted by the United Nations Office for Outer Space Affairs (UNOOSA) and the China Manned Space Agency (CMSA) as one of nine scientific projects planned for the China Space Station (CSS) in 2022. The research experiments are focused on developing capabilities in space science and technology for peaceful purposes, and give selected UN Member States the opportunity to leverage space to achieve Sustainable Development Goals.
A young Italian start-up comprised of four experienced researchers and designers from the world of aerospace, IN QUATTRO is the only private company to be chosen for the prestigious space industry project. The group has its roots in aerospace and proven expertise in the multi-gravity environment of parabolic flights – fundamental for the development of the two-phase cooling system, which offers significant benefits over conventional methods.
Entitled BARIDI SANA ("very cold" in Swahili) – High Performance Micro 2-Phase Cooling System for Space Applications, the project will conduct research and testing of the next generation of cooling systems for space applications by replacing ordinary liquid cooling loops with a two-phase cooling system. The cooling agent will be organic and non-toxic, a pioneering concept particularly valuable for human space exploration systems.
Compared to classic cooling systems like heat pipes and liquid cooling, IN QUATTRO's new technology can remove higher heat fluxes using less pumping energy. Its low flow rate means reduced energy consumption, and use of evaporation and condensation to condense the refrigerant means higher efficiency.
In space, satellites encounter intense heat when facing the sun and equally bitter cold when facing away from it. Being able to guarantee effective thermal control of the on-board electronics with such a wide range of temperatures requires the use of very advanced technologies to keep the satellite control systems always operational when environmental conditions change.
IN QUATTRO's Two-Phase Flow cooling system can meet the new thermal management and control system requirements during all mission steps. It is compact and lightweight, which results in longer orbit time. Additionally, the Two-Phase Flow technology does not require maintenance over time.
Other potential uses of the technology include:
Cooling high-performance computers
Cooling servers in data centers
Cooling electric vehicles
Cooling power electronics for other sectors: telecommunications, avionics, satellites
Giuseppe Zummo, co-founder of IN QUATTRO, said, "We are excited that our system has been included in such an important international research project. Two-phase thermal cooling is a game-changing technology with great potential for many applications both in space and on the ground, and we are extremely pleased it will be implemented here."
Asked why experimentation in space is important, he responds, "Space has always been the gateway to technological advancements that have ultimately benefitted terrestrial applications and generated innovative solutions. It is critical to test systems and verify the materials and equipment used under extreme conditions (hyper- or micro-gravity conditions, critical thermal cycles and space radiation) for prolonged periods of time. Also, being able to verify where and how gravity influences two-phase cooling will give us an opportunity to improve an already innovative product. Therefore, using technology developed for space will create even more powerful product on Earth."
The CSS opportunity, first announced in May 2018, was open to all Member States of the United Nations, with particular consideration given to developing countries. A total of 42 applications, from organizations in 27 countries, have been received by the United Nations Office for Outer Space Affairs (UNOOSA) and carefully evaluated by around 60 experts from UNOOSA, China Manned Space Agency (CMSA) and international space experts.
Nine winning projects were selected, involving 23 institutions from 17 Member States of the United Nations in Asian-pacific, European, African, North American and South American regions, including governmental organizations, private sectors, and international associations. Research areas proposed by the winners include space medicine, space life science, biotechnology, microgravity fluid physics, microgravity combustion, astronomy, and space technologies.
Official UNOOSA/CMSA Project page: https://www.unoosa.org/oosa/en/ourwork/psa/hsti/chinaspacestation/1st_cycle_2018.html
IN QUATTRO (IQ), a visionary Italian startup, creates game-changing thermal cooling systems for high-power-electronics. The unique group of researchers has its roots in aerospace, and proven expertise in the multi-gravity environment of parabolic flights – fundamental for development of their two-phase system, whose low flow rate greatly reduces energy consumption and improves efficiency compared to conventional methods. Seasoned engineers at ENEA (Italian National Agency for New Technologies, Energy, and Sustainable Economic Development) and a Spin-off, they boast proven expertise in two-phase flow heat transfer for microgravity and terrestrial applications. The group is also an ESA (European Space Agency) incubator for extensive research on parabolic flight campaigns. In QUATTRO is committed to providing innovative thermal solutions that revolutionize gaming, data centers, automotive and aerospace applications. For more information, visit: www.in-quattro.com