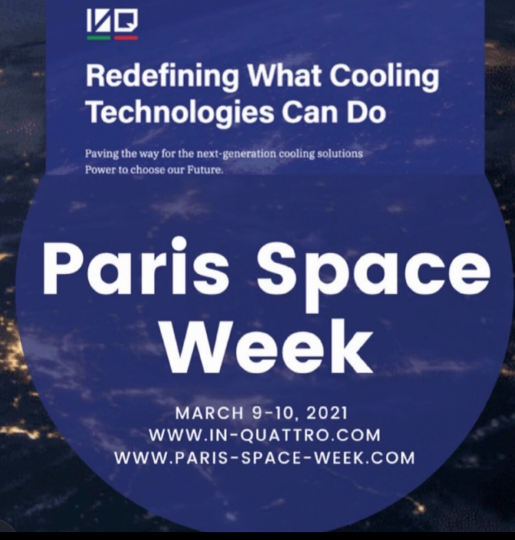 IN QUATTRO will participate in PARIS SPACE WEEK digital edition, a global event focused on the New Space Economy, bringing together the brightest Space Agencies, Large Groups, SME's , Startups and Investors in the European Space Industry. Here we'll introduce the first step towards a solution for cooling high-power electronics for next-generation satellites and spacecraft,
In space, a host of issues that are nonexistent on earth become suddenly critical for temperature regulation. Satellites launched to provide us with capabilities such as 6G transmission must maintain stable temperature levels to operate –new more advanced cooling technologies are needed. IN QUATTRO's Advanced two-phase cooling is the better solution.
The evolution of space electronics and space segment applications leads to miniaturization and power increase, with a consequent growth of thermal power densities to be dissipated. The next generation satellites (small and large satellites) and their payloads will require cooling systems able to manage increased heat fluxes in small volumes (ranges up to 100 W/cm2 and even more), over small surface areas (50-100 cm2). To face these cooling requirements, it is crucial to develop innovative thermal management systems to replace and support the conventional ones (heat pipes, loop heat pipe, and liquid cooling).
The idea of a more effective thermal transport is based on the replacement of ordinary cooling systems with two-phase flow pumped loops. A two-phase pumped loop features the use of flow boiling heat transfer to cool electronic devices. Compared to traditional cooling systems, it can achieve significantly higher heat transfer coefficients at significantly lower flow rates and pumping power. These thermal performances are reached by using of latent heat of vaporization and condensation, so that temperature gradients and flow rates are largely reduced. In addition, in the evaporator, an electric field system can be implemented to increase the Critical Heat Flux and possibly the heat transfer coefficient. Two-phase cooling systems using evaporation and condensation are known to be the best way to meet demanding cooling requirements in terms of compactness, weight and energy-consumption. One of the fundamental advantages of the two-phase systems is the large heat transfer coefficient of film boiling (up to 1000~10,000 W m-2 K-1), which is one order of magnitude larger than the heat pipes.
This technology has been developed and used in the cooling of components of nuclear reactors for large channels. In recent years, the research efforts have been dedicated to reduce the size of the channels down to the small size of electronics. Thermal management of electronics based on two-phase cooling is the most recent and advanced cooling system proposed to the market of terrestrial applications.

For more information:
Giulia M. Luccioli (Advisor) – Email: g.luccioli@in-quattro.com
Giuseppe Zummo (Co Founder) – Email: g.zummo@in-quattro.com